OAK August 2014 Newsletter
SAVE THE DATE: Every Child Healthy Outdoors (ECHO) Across America Toolkit Webinar 
We are so pleased to announce the launching of OAK's Every Child Healthy Outdoors (ECHO) Across America Toolkit.
OAK's ECHO Across America Toolkit  provides a series of resources and templates to convene a meeting of leaders of organizations in your state or city, conduct an assessment of your state or city's existing children, youth and families and the outdoors policies and initiatives, set goals for policies that your governor or mayor can adopt, and launch a campaign to get your governor or mayor working on this policy agenda. The goal of OAK's ECHO Across America initiative is to bring state and local leaders together to launch a comprehensive multi-sector plan to get more kids and families outdoors.
Please join us for a webinar on Monday, October 6th from 3:00pm – 4:30pm ET, where members of OAK will present the toolkit and share local success stories. The webinar will also discuss ways in which you and/or your organization can lead or get involved with ECHO in your city/state. 
Please save the date to join us for this webinar and invite colleagues, affiliates or members of your network who may also be interested in learning about ECHO. More information will be included in OAK's September Newsletter, stay tuned!
---
CDC's 2014 State Indicator Report on Physical Activity is now available
The Centers for Disease Control and Prevention has just released the 2014 State Indicator Report on Physical Activity.
According to the report, only 27.1% of youth in the United States are meeting the national physical aerobic activity guidelines, which call for 60 minutes of moderate- or vigorous- intensity physical activity daily. In some states, like Texas, less than one-fifth of young people are meeting these guidelines.
Unfortunately, these numbers are less surprising when coupled with the fact that most Americans simply do not live within walking distance of a park. According to the state by state report, only 39.2% of the U.S. population lives within a half mile of a park. (If you want to see how your city fares on park access, look no further than the Trust for Public Land's Park Score, which ranks cities on park acreage, access, investments and other metrics.) The proximity and safety of parks are increasingly being recognized as a contributing factor to the overall health of a community, yet many of our children don't have basic neighborhood access.
Help us turn these statistics around and attend OAK's webinar to learn how you and your organization can help OAK get Every Child Healthy Outdoors (ECHO) Across America. Read more in the latest blog by OAK's Chair, Jackie Ostfeld.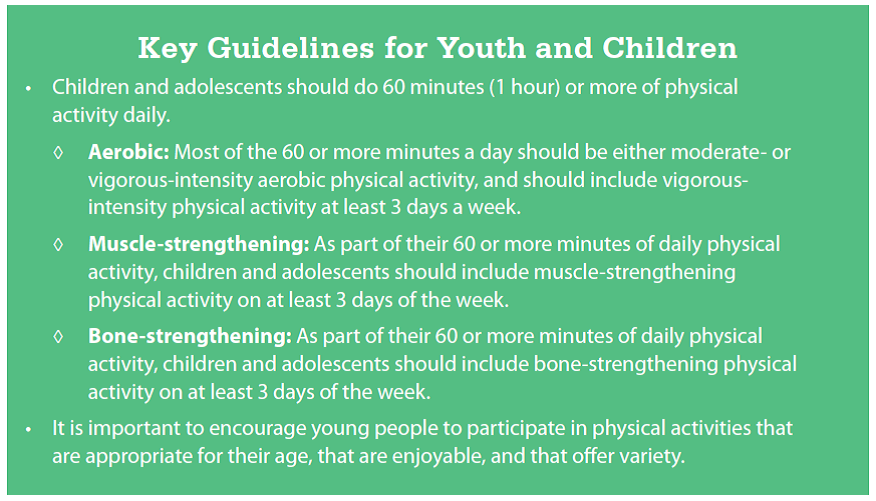 ---
OAK receives letter of support from the National League of Cities 
OAK recently received a nice note from Mayor Chris Coleman of Saint Paul, Minnesota, and Mayor Ralph Becker of Salt Lake City, Utah, the President and President-Elect of the National League of Cities, in response to our recent letter introducing ECHO Across America.  
"On behalf of the National League of Cities (NLC), we thank you for reaching out on the critical issue of connecting children to nature and the great outdoors. We applaud the leadership and work of the Outdoors Alliance for Kids (OAK) and appreciate the deep commitment that its members have made to lift up and advance this important agenda."
Thank you to all OAK members who signed on to support ECHO. If your organization is interested in getting more involved with OAK's work on ECHO, please consider joining OAK and the State and Local Action Team list-serve.  And remember to save the date for our October 6th webinar on ECHO Across America.
---
Outdoor Recreation is fun, but is also providing jobs and income
The Federal Interagency Council on Outdoor Recreation (FICOR) just released a new report, Outdoor Recreation: Jobs and Income that highlights the economic value of preserving America's great outdoors. America's public parks are important for connecting youth, children and families with the great outdoors, but it's also a multi-billion dollar industry. According to the report, in 2012, "Outdoor recreationists made more than 938 million visits to Federal lands and waterways, spending $51 billion and supporting 880,000 jobs." 
---
Secretary Jewell awards Southern California Refuge $1M to Engage Urban Communities
Interior Secretary Sally Jewell announced that the San Diego National Wildlife Refuge Complex will receive $1 million in funding to engage youth and urban communities in outdoor recreation and conservation. The complex's proposal to create the "SoCal Urban Wildlife Refuge Project" is the first to win funding through a national competition launched earlier this year by US Fish & Wildlife Service Director Dan Ashe. According to Ashe, "It will create new and tangible opportunities for urban residents, particularly youth, to experience the outdoors and everything the natural world has to offer in a real, hands-on way"  
Congratulations to the San Diego National Wildlife Refuge Complex!
---
ICYMI OAK Members Have Been Blogging
Camping Made Easy, OAK Member Guest Blog by Eric Bach and Irene Lam from Hipcamp
Time to Create an ECHO Across America: Every Child Healthy Outdoors, OAK Member Guest Blog by Jackie Ostfeld of the Sierra Club
Are you missing OAK's blogs when they are posted? Be sure to subscribe to follow OAK's blog today!
---
OAK Upcoming Events Calendar
---
Help Us Grow OAK
Do you know another business or organization that share's OAK's mission to expand the number and quality of opportunities for children, youth and families to connect with the outdoors? Encourage them to become a member and refer them to our Join OAK page!